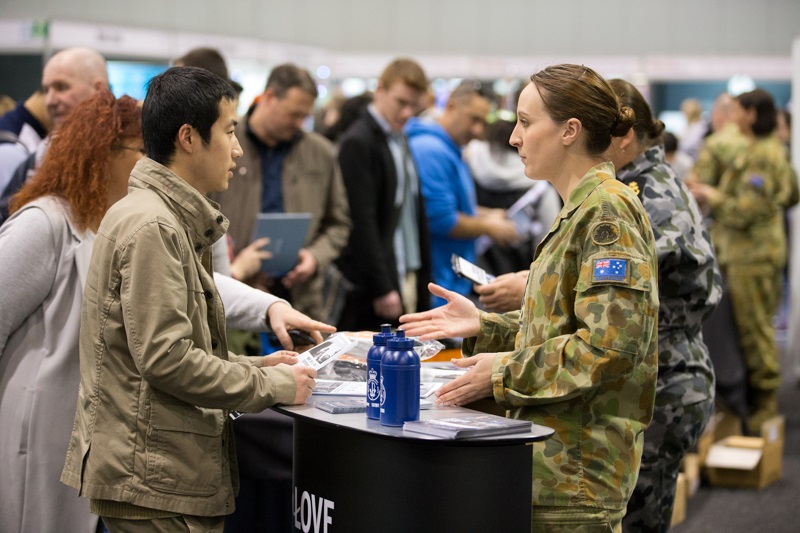 Why Exhibit at the Melbourne Career Expo?
The Melbourne Career Expo provides the perfect opportunity for organisations to promote their courses, employment opportunities, products or brand to a large captive audience. This event is one of the largest Career and Employment Expos in Australia with over 150 exhibitors and around 15,000 attendees expected.
Now in it's 21st year, the Melbourne Career Expo has proven to be a trusted and fantastic event for all involved. Our friendly team provide you with transparency including accurate statistics, demographics and fully detailed event reports to breakdown the door numbers and allow you to see our marketing and advertising strategies. This in turn provides your company with reassurance and allows for the highest return on investment and most positive expo experience.
What are the benefits of exhibiting at the expo?
Recruit new staff, students or clients
Build brand awareness for your organisation
Promote your organisation through your stand, seminar or stage activity
Create a quality database
Interactively demonstrate course content
Launch new products and services
Network with other exhibitors and organisations
Enhance PR Opportunities
Develop personal relationships with new clients
Get immediate feedback on your product range
What are the expo attendee demographics?
Results are taken from our 2019 Attendee Survey.
Attendee Age:
21% VCE Students
45% 18-30 years
34% 31+ years
Reason for Attending:
31% University or Further Training
34% Jobseeker
35% Career Advice
Highest Level of Education:
11% Completed VCE
32% Still Studying
57% Qualification Higher than VCE
What do previous exhibitors have to say about our expo?
I thought the Melbourne Career Expo was terrific and we were quite impressed with the leads we got. A well executed event.
Dean, Australian Institute of Music.
I thoroughly enjoyed the weekend and found it a great benefit for our organisation. We would like to rebook for the 2023 event.
Tracey, ASCTA & Swim Australia.
We would like to reserve the same stand location for next year. It has been great as always! Thanks a lot for all your efforts.
Ida, Australian National University – Crawford School of Public Policy.
I just wanted to thank you for how easy you made everything. This was our first time at the expo and you truly made it a breeze. Thank you!
Natasha, My Career Angels.
We were really pleased with our first involvement in the Melbourne Career Expo and would like to reserve the same stand for 2023, please
Tracey, Racing Victoria.
HUGE thanks to you and your team for putting this together, we loved it! And yes bump out was very smooth – amazing! We are keen on booking again for next year, maybe a bigger stand though
Alana, Consolidated Property Services.

Thanks for a great show. We will be back next year in the same stall site. A well organised and attended event.
Kate, William Angliss Institute.

Thank you again for amazing communication and service provided from start to finish. 
Lily, LCI Melbourne.